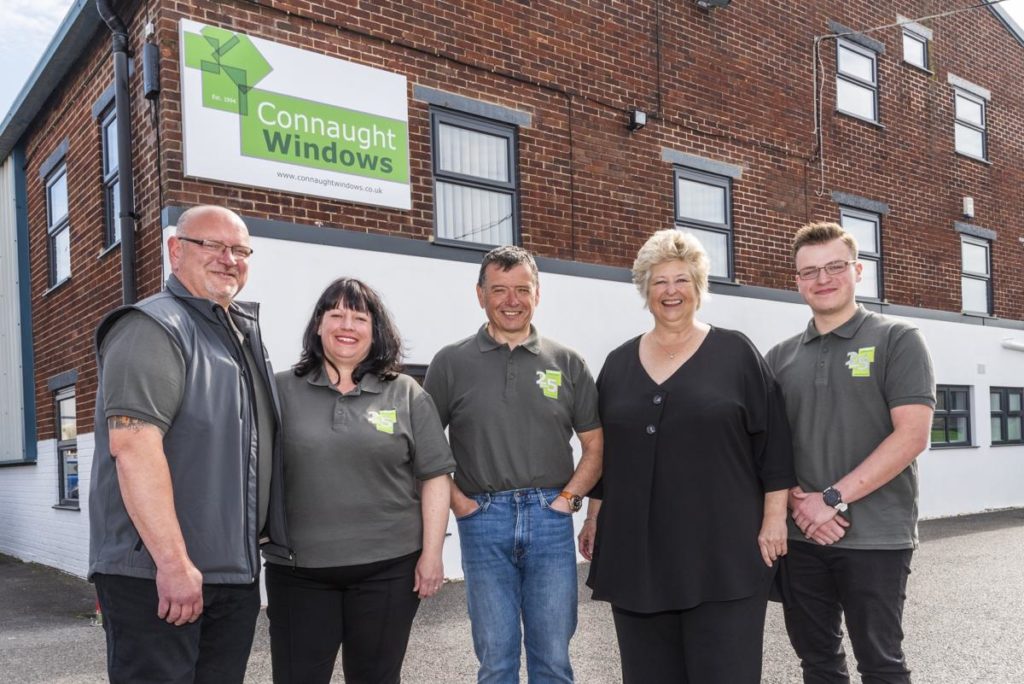 From humble beginnings in 1994, Connaught Windows has grown into a strong pillar of the Bournemouth community. We have been proud manufacturers and suppliers of bespoke windows, doors, and conservatories for almost thirty years. Through that time, we have helped thousands of people across the South Coast improve their home's energy efficiency and style. 
Despite our wonderful growth, our products may have evolved and improved, but our original mission remains the same. To deliver quality products and services to installers and trade customers. As we come close to celebrating our 30th anniversary, we would like to reflect on the family dream that started it all.
The Family Behind The Products
Steve Witczak has been the managing director of Connaught Windows since our inception. For almost thirty years, he has built the business from his front room to the go-to manufacturer of windows, doors, and conservatories for the UK's South Coast.
in 2005, we grew into our current factory in Wallisdown, Bournemouth, where we evolved our services even further to include a vast collection of in-house glass options. You can learn more about our growth timeline by visiting our Company History page.
Working with Robert, Linda, and Natalie, Connaught Windows has been handled by a trusted and well-known family that strives to put the community's needs first. As sponsors of the Bournemouth Rugby Club, we are always happy to see our youth succeed alongside us whenever possible.
To learn more about the family-led team behind Connaught Windows, check out our Meet the Team page on our website. If you'd like to see some of our products in person, visit our About Us page to find out our opening hours and the areas we cover. Or, if you have a question for our friendly team about our services, then give us a call at 01202 525212. We'd love to hear from you!
Bespoke Glazing Products
We can manufacture industry-leading double-glazed products across Dorset, Hampshire, Wiltshire, Somerset, West Sussex, Surrey, West Berkshire, and the surrounding areas. Whether you're looking for uPVC vertical sliding sash windows, aluminium bifold doors, or a brand-new conservatory, we have it all.
Our ability to manufacture products that suit your specific needs sets us apart from similar companies. You can customise the windows or doors you need in a large number of ways, including the ability to choose from a vast colour range courtesy of Deceuninck. We can even offer highly detailed woodgrain foils to mimic the look of traditional timber. This customisation choice even includes a selection of decorative or chamfered options and a great range of glazing options, such as acoustic or stained glass.
The windows and doors we provide don't just come with a great variety of aesthetics but can also be trusted to keep homeowners safe. Our products can come with a great selection of hardware accessories thanks to our reliable suppliers, so you can have peace of mind when you install products by Connaught Windows. 
Why Choose Connaught Windows
By choosing Connaught Windows as your manufacturer, you support a trusted family-led business that can provide professional and friendly service. We can offer everything you need under one roof, letting you save precious time, money, and fuel. By not having to go anywhere else for your manufacturing needs, you not only get the benefit of better time management, but you could also enjoy environmental benefits from travelling less!
The windows and doors we manufacture can all be customised and come in a large array of styles to suit almost any property's needs. Plus, our in-house glass service allows you to design the perfect look for your next installation project. We have a series of trusted accreditations, including PAS24, BRFC and many more, so when you choose Connaught Windows, you know you can have total peace of mind. Our products can keep homes safe and secure without compromising aesthetics or personalised style.
Connaught Windows Prices
Trust Connaught Windows for all your windows, doors, sealed units and conservatory needs. Our products are all manufactured to our highest standards to ensure they are best in class. The double glazing we supply can let any homeowner benefit from a warm and comfortable home all year round. 
Find out more about our extensive range of glazing products available on our website. We can manufacture both uPVC and aluminium windows and doors with a wide variety of styles and colours. Call us today at 01202 525212 if you have any questions about our range of products and services, or fill out our contact form with your information and inquiry, and we'll get back to you as soon as possible.