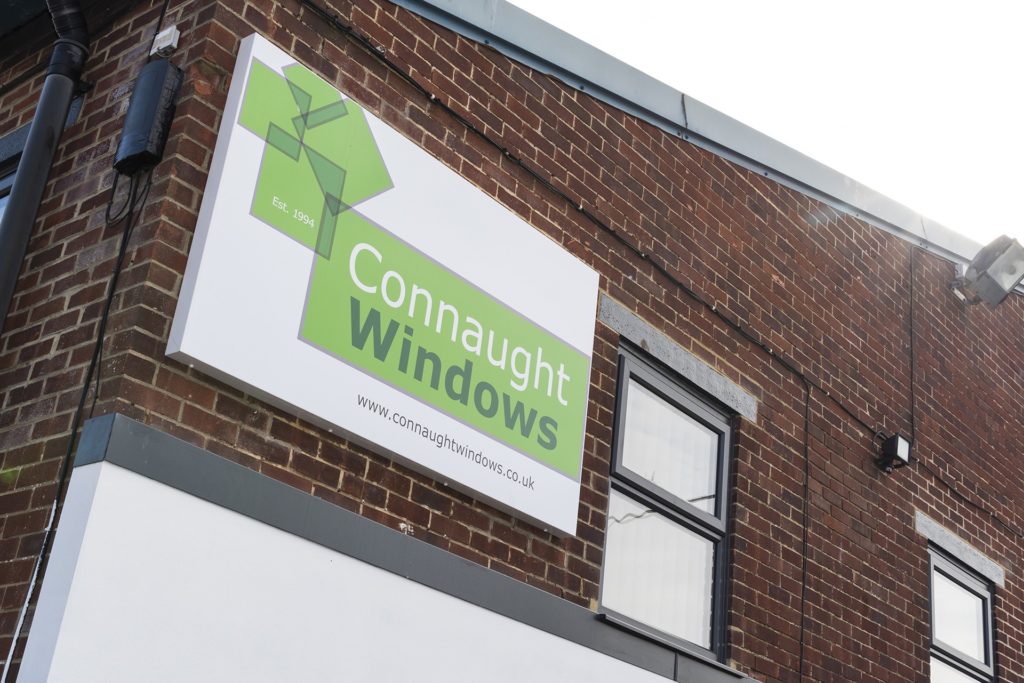 Ever wondered how we manufacture our products? Read on to discover the manufacturing process and learn how to customise your windows, doors, or conservatories to suit your next project.
We can cover a massive range of areas across the south of the UK, and with our collection of modern energy efficient uPVC and aluminium products, you won't need to go anywhere else for all your glazing needs. 
Learn more about the team behind Connaught Windows manufacturing here on our website or give us a call today at 01202 525212. We'd love to speak with you about our manufacturing process!
Manufacturing Process
Our uPVC windows and doors are manufactured using profile sections which have been extruded.  This is done by using molten polymer which is cast into a die and the die for the uPVC is used to give the extruded profiles its shape as it is being pulled and stretched and then quickly cooled to maintain its shape.  This is a necessary feature to enable assembly of many components required for high performance windows and doors.   
When we receive the profile sections into us, orders are batched through a network system from our computer programme, this is linked to our fully automated Rapid sawing centre which prepares the profile ready for the welding process.  Each piece of profile cut has its own job number and batch colour for ease of location withing the fabrication process from start to finish, this is for quality control at each stage within the product being manufactured.
Once welding has taken place using our recently installed four brand new welders, the products are corner cleaned using our CNC machinery, the product then goes into fabrication, whereby assembly of the window or door takes place, screws, hinges, and locks are fitted.
After the cutting, welding and fabrication takes place, the items move into the beading area ready for the final process to be completed and then out to the customer. 
uPVC can be manufactured in a wide variety of colours and shapes, making it a fantastic choice for all kinds of products. Plus, while it may be easy to mould and form, it is a surprisingly robust material, capable of withstanding warping or cracking.
The aluminium product range is extruded in a similar way, being put through a high-pressure extrusion process using a steel die and heated to 600 degrees Celsius. Once this process has been completed, the sections are then powder coated in any RAL or Dual colour. 
When we receive the aluminium profile sections into us, the jobs are batched separately to our CNC Phantomatic machine and the whole job from start to finish is carried out in our Aluminium department whereby full assembly takes place.
Customisation Options
We can provide you with a wide selection of customisation options, from colours to glazing. By choosing Connaught Windows as your manufacturer and supplier of windows, doors, and conservatory products, you can complete projects to suit the style and needs of almost any home across the UK.
Colours
All our products are manufactured in a wide range of Heritage Foils and modern colourways to suit all kinds of unique styles. From accurate English Oak and Irish Oak to natural Chartwell Green and Cream, you can choose the perfect woodgrain foil to complement the existing windows or doors that cover the rest of your project. Or select from a range of darker and smoother tones, such as a Rouge or Anthracite Grey.
For full colour range in uPVC and aluminium products, check out our website.
Glazing
We manufacture sealed units within our Glass Shop using a fully automated glass line and can incorporate a wide variety of glazing such as obscure glass, leads, bevels, stain designs and Georgian bar for traditional styled homes and acoustic glass for homeowners looking for more soundproofing. All our glass options can help save on energy bills thanks to the bespoke double-glazed panes. 
Additionally, our casement windows achieve a 'B' window energy rating with the British Fenestration Energy Rating Council (BFRC) as standard. However, we are also pleased to be able to provide an upgraded option that includes an 'A' rating, which is done with the addition of Argon gas. 
Discover more about the glass we manufacture here.
Window & Door Prices
We can manufacture an excellent range of uPVC and aluminium windows, doors, and conservatories. Fill out our online contact form with your detailed queries, and we'll get back to you as soon as possible, or for more direct contact, call us on 01202 525212 or email us at sales@connaughtwindows.co.uk.