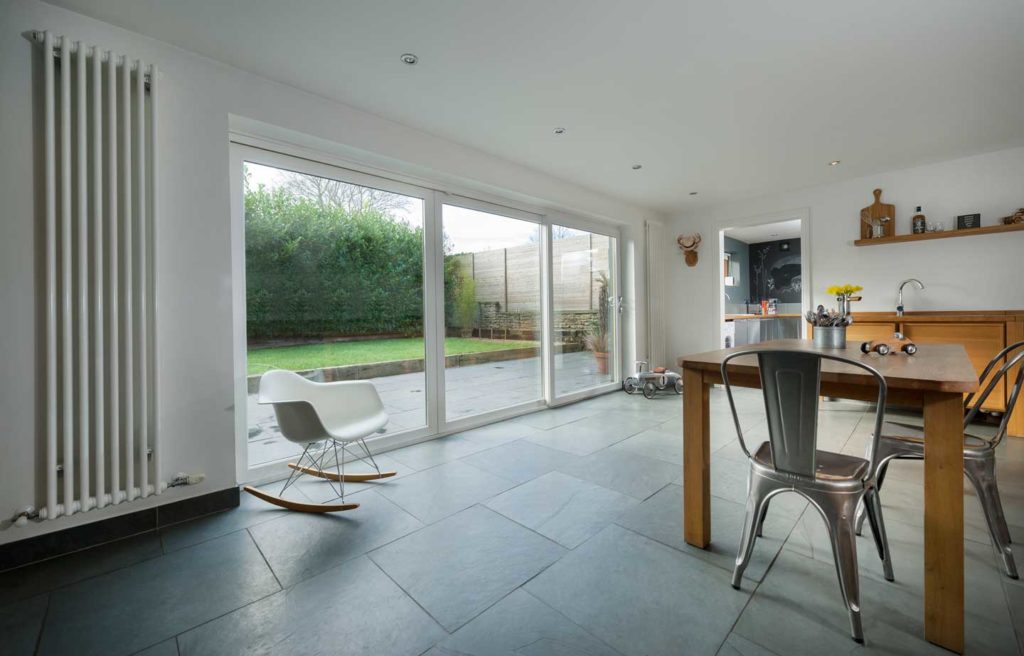 Our uPVC patio doors can make an excellent addition to almost any property style.  With a wide opening they are perfect for an entrance to a garden, patio area, or conservatory that can provide both superb security and beautiful sightlines of the outside that floods the home with natural light.
Discover more of the benefits of uPVC patio doors, or request a quote with us today!
Energy Efficient
With a multi chambered profile and bespoke double glazing, uPVC patio doors can keep homes warm and comfortable all year round, come rain or shine. The double-glazed panes of glass trap heat between them, preventing it from being wasted by escaping to the outside. By retaining more heat within the home, potentially helping to reduce their energy bills. Using less energy year after year could also have the extra benefit of improving the carbon footprint!
Weatherproof
Industry leading high performance and robust design, long lasting and best in class weather performance.  Strong and durable insulators against the elements
Safe & Secure
The durable uPVC profile and the double glazing is internally beaded so that it cannot be easily removed from the outside. The uPVC patio doors undergo an extensive and rigorous testing process so that they can be upgraded to PAS24 certified, making them perfectly suitable for new builds. 
Highly Customisable
uPVC patio doors can be two, three, or four panes with extensive colourways and woodgrain foil options, our uPVC patio doors can match the aesthetic of almost any property or make a bold and fresh statement that stands out from the crowd. The woodgrain foils are designed to mimic the look and feel of traditional wood while providing all the benefits of modern uPVC durability. Additionally, we can supply and match the colour for all ancillaries and trims for a totally seamless style. 
Colour isn't the only thing that can be uniquely customised; we also offer a fantastic range of hardware that can come in white, gold, silver, chrome and black. 
Low Maintenance
Compared to traditional timber, another one of the benefits of uPVC patio doors is that they are extremely low maintenance. The uPVC profile can resist warping or cracking, all it takes to keep the patio doors looking their best is a wet and soapy sponge or cloth to wipe away any build up dirt or grime.
Slim Sightlines
A final benefit of uPVC patio doors is that, unlike timber frames, uPVC can be manufactured with slimmer sightlines that make way for larger panes of energy efficient double-glazed panes. These panes can not only keep homes warm but also offer beautiful views outside while flooding homes with natural light. Plus, a sleeker frame can provide a reduced threshold, making the patio doors easily accessible for wheelchair and pushchair users and granting a lower chance of tripping.
Why Choose Connaught Windows For uPVC Patio Doors?
Connaught Windows has been manufacturing and supplying long lasting and stylish windows, doors, and conservatories for decades and have been reliable pillars of the local community throughout that time. By choosing us, homeowners can benefit from uPVC patio doors that have been designed with both style and substance in mind. Thanks to our extensive colour and hardware options, you won't have to compromise on the aesthetics of a traditional home.
Learn more about the team behind the product on our website here or give us a call at 01202 525212 for more information on our best in class patio doors and other glazed products. 
uPVC Patio Door Prices
Get a quote for uPVC patio doors today with our online quoting tool. or contact us today at 01202 525212 or email us at sales@connaughtwindows.co.uk for all your windows, doors, and conservatory needs. Alternatively, fill out our online contact form with your details, and we'll get back to you as soon as possible.